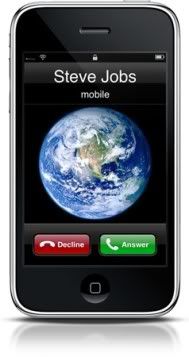 Ever had a bad blind date? Or, here's a different way of looking at it: have you ever worried about a blind date and set up a call from your friend, just in case it was bad, so that you had an excuse to leave? Well, with Fake Calls, an iPhone app, you don't need to infringe on your friends' spare time any longer.
The idea is the application will simulate a call to your iPhone, and you can customize the time, caller ID, number and more. Of course, the developer doesn't use a bad date as an example, rather an annoying conversation, but come on! This is perfect for bad matchmaking.
The developer (
Magic Tap
) says:
Simulate calls with this great application! Have you ever been in the situation where you need the perfect excuse to get out of the room or step out of an annoying conversation? Easy: Open FakeCalls and within seconds or minutes the application will simulate a fake call. (No real calls are made; this is just simulation. Good news is: you are the only one who knows that!). Then answer the call, decline it or just let the phone ring to fake a missed call.

You can customize caller name or number, time to receive the call, vibration and wallpaper: just go to the Settings icon on your device and find FakeCalls there. It was made in this way so the fake call activation is really just one click.
This could really be a great application for Match.com or eHarmony.com users. Hey, maybe they should partner with those sites (not that those sites would like to advertise bad dates)!
Nicely, Magic Tap also donates 10% of their earnings to charity. Here's the
link
to the App Store.