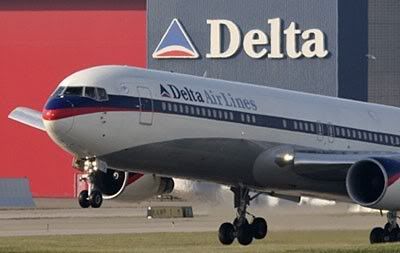 Sorry, Samuel L. Jackson.
Snakes on a Plane
, yes. Porn on a Plane, at least a Delta Airlines plane, no.
Delta plans to roll out
in-flight wi-fi
later this year, but there were questions about what will happen if people are surfing, ahem, inappropriate websites or streaming inappropriate media. Originally Delta said it was going to handle this on a case-by-case basis, but after receiving feedback from customers and flight attendants, the company has reversed course, and is currently working with wireless provider Aircell to come up with a filter to block the inappropriate content.
Meanwhile, American Airlines, which is in the midst of a 3 - 6 month trial of wi-fi service, has refused to consider filters, despite a request by leaders of the Association of Professional Flight Attendants.
Don't expect such a move by Delta to be well-received by all. After all, remember that in March, the Denver International Airport took a lot of flak for
similar filtering
. However, in that case, the filters were a tad bit aggressive, filtering sites like Boing Boing and Vanity Fair.
Still, I would be
very
surprised if filtering doesn't become the norm eventually.
Delta's system, called Gogo, will be available to customers for a flat fee of $9.95 on flights of three hours or less, and $12.95 on flights of more than three hours.