Tuesday LucasArts and BioWare unveiled a long-rumored MMORPG,
Star Wars: the Old Republic
. The game is based on the BioWare's
Knights of the Old Republic
(KOTOR) series. It takes place 300 years after KOTOR, which puts it about 3,600 years before the film.
Of course, this had all been casually leaked in July. John Riccitiello, CEO of BioWare parent Electronic Arts casually noted that BioWare was indeed working on a massively multiplayer online role-playing game set in the KOTOR universe while speaking to
Conde Nast Portfolio.
The bad news first: no release date, no pricing, no word on console releases, no nothing except the announcement. If nothing else, at least the
site
's ready.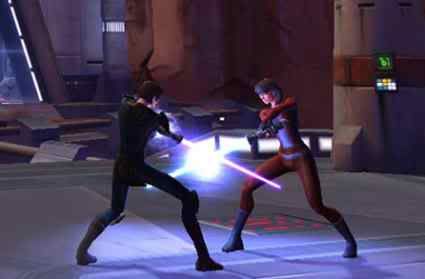 As the site says, you can:
Choose to be a Jedi, a Sith, or from a variety of other classic Star Wars roles, and make decisions which define your personal story and determine your path down the light or dark side of the Force. Along the way you will befriend courageous companions who will fight at your side or possibly betray you based on your actions. Together, you will battle enemies in dynamic Star Wars combat and team up with other players to overcome incredible challenges.

Both factions apparently will be able to use lightsabers and the Force early on. Whew. All the remembrances of how hard it was to become a Jedi in
Star Wars: Galaxies
(at first, anyway) drift away.
While fans were disappointed to see no KOTOR III, Lead Designer James Ohlen indicated why they chose to do a MMORPG instead in a GameSpot
interview
:
"One of the things we like to joke about is just the sheer amount of content we're doing. Our fans ask, 'Why aren't you doing Knights of the Old Republic 3?' What we're really doing is Knights of the Old Republic 3, 4, 5, 6, 7, 8, 9, 10, 11, and 12-plus. We have that much content and that many stories...We really get to do a lot of things we really wouldn't get to do in [a] KOTOR 3."
That's all cool, but what about the backstory? Well, that was provided in press materials provided at the announcement event at LucasArts' headquarters in the Presidio. You can read them here (
.PDF
).
Can Star Wars: TOR take a piece (and a decent one) out of the
World of Warcraft
MMORPG market share? That will remain to be seen. First we need to have a date, and then a game (and hopefully, not just a beta version of it, if you get my drift).