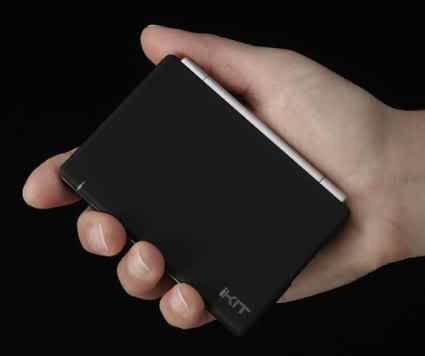 I remember when there used to be PDA of a similar size to this new PC ... oh, all right, the company calls it a Pocket Mobile Companion. The HP620 LX (pictured below) was simply a Windows Mobile (or actually Windows CE) device. But the new IMOVIO iKIT is a Linux-based device.
Like I said, the device reminds me a lot of the old HP620 LX and its ilk, but it's even smaller than an HP620 LX (pictured below). Of course, I remember those old PDAs, and even with a full QWERTY keyboard it was horribly hard to type on them --- I doubt this will be any easier.
In their
press release
, IMOVIO said:
Dr Jack Torobin, CEO of IMOVIO: "Many consumers can't afford the latest smartphone or mini-PC gadget, while others simply can't use or just don't like the existing form factors. This means that large groups of people still don't fully utilise mobile data. These users, mainly women and teens, still want to have the ability to send emails, browse the web and update their on-line profiles whilst they are out and about."

Nigel Newby-House, Head of Design: "We designed the iKIT to be an alternative to a smartphone or mini-PC. It's a beautifully designed mobile device that provides all the multi-media and messaging capabilities a mobile consumer needs. But at a much better price."

For mobile and broadband providers, the iKIT is the perfect device to complement their existing range and can be offered to consumers as an add-on device to go with the existing choice of phones, laptops or HSDPA cards. Alternatively, the iKIT can be used to increase customer retention or reduce churn by offering it as a subsidised device for users signing up or renewing broadband or mobile data packages.
It sounds like they want this device to be sold through carriers, just as a cell phone would be. Price, £99 or €130 ($172). Colors, for now: black and white. If you look at the Product Presentation (
.PDF
), however, it looks like there will be other colors available.
Thing is, this is hardly any more of a PC replacement than today's smartphones are. I'm not sure I seem much of a market for this. Then again, I've been wrong plenty of other times. Specs below.
Processor
Marvell PXA270 312MHz
Operating System
Linux 2.4.19
User Interface
GUI : Proprietary plus Trolltech QT/E 2.3.8
Applications
- Email
- IM
- Web browser --- Opera Mini 4.1
- Contacts
- Bluetooth, WiFi
Keypad

- QWERTY/AZERTY + numeric keys, other
- Backlight: White
Memory Internal
- ROM: 128 MB, RAM: 64 MB SDRAM
- User data : 12MB, User media files : 23MB
Memory External

- Micro SD (up to 8GB)

Display

- 2.8 inch QVGA, TFT, 260,000 colors, landscape

Camera

- 0.3 MP fixed focus camera (Option)
- Image format: JPEG, fine and standard
- Digital zoom: Up to 3X smooth digital zoom with 7 steps

Dimensions
- 3.74" (L) x 2.56" (W) x 0.61" (H)
Weight
- 3.99 oz. (with battery)
Java
- JTWI / JSR75 compliant
Email Protocols
- POP3 / IMAP / SMTP

PC Sync
- With Outlook 2000/2003 & Outlook Express v6
- (emails, contacts, calendar)
Personal Features
- Calculator
- Media folder
- Notepad
- World clock
- Alarm clock
- Stop Watch
- Countdown Timer
Battery
- 1050 mAh, Li-ion
- Standby Time; up to 250h
- Gaming Time; up to 4h (Java)
- Charging time: 2.5-3.5 hr to full charge with device powered off