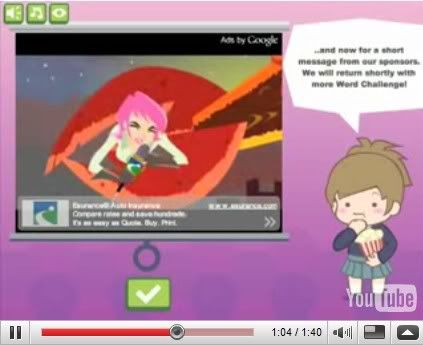 Are you a casual gamer? Do you like play web-based games? If so, you might soon be seeing Google ads before, during or after a game (that just about covers it). If during, it would be during a level change, fortunately.
Google
announced
(in beta, of course) AdSense for Games on Wednesday.
As a beta user of AdSense for Games, you can display video ads, image ads, or text ads within your online games to earn revenue. You'll be able to show these ads in placements you define, such as interstitial frames before a game, after a level change, or when a game is over. Members of our AdWords team will sell your in-game ad placements directly to top brand advertisers, and you'll also see contextually targeted text and image ads based on content and demographic information. In addition, you'll be able to control the ads you see on your pages using our filtering options.
A move like this, might make the rumored, but denied,
acquisition of Valve
by Google a better fit.
Opening up this new venue for AdSense places Google once again in competition with Microsoft, whose subsidiary Massive is the leader in the space. It also answers the question of what the Google planned to do with AdScape Media, which it bought for $23 million in February of last year.
There are also some well-known companies in the mix, including PlayFish, Mochi Media, Demand Media and Konami.
So you can get an idea of how this all works, Google has posted a video with an example of a between-level ad:
They're also taking publisher
applications
. But the requirements are stiff. You must have 500,000 plays
a day
.
Current Requirements:


Game plays: Minimum 500,000 per day
Game types: Web-based Flash only
Integration: Must be technically capable of SDK integration
Traffic source: Must be 80% US & UK Traffic
Content: Family safe and targeted at users age 13 and up
Distribution: Must be able to report embed destination and have control over where games are distributed
Now, the question is whether or not Google can become a hit in this market. So far, it's record is pretty stellar in terms of entering markets already occupied by oh, say, Microsoft or Yahoo! and doing well. And, in point of fact, the mere presence of Google in this space, some would say, legitimizes it.
Of course, while I'm not so annoyed by in-game ads that consists of billboards I pass while running around a level, I'm pretty annoyed by ads that interrupt gameplay in the middle or beginning of a game. So anything besides an ad at the end of a game (which naturally I will switch tabs to avoid) is going to irritate me. We'll see how others feel as this unfolds.