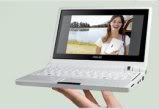 While it's difficult to imagine that it's only been a year, it's also hard to think that it's
only
been a year. A year since the introduction of the Asus Eee PC 701, which singlehandedly invented a new category of PC: the netbook, I mean.
It seems like netbooks have been around forever, but that's how quickly there were embraced by end users.
Laptop Magazine interviewed Asus CEO Jerry Shen recently, and asked him about challengers such as MSI, Samsung, Lenovo, and Dell, among other things. Highlights of their
interview
were:
Nearly four million Eee PCs have been sold so far, and Shen predicted they would reach their goal of 5 million Eee PC sales by the end of 2008.
Touch-enabled Eee PCs will arrive in early 2009. Shen didn't share the details of the form factor, though he said they are exploring a convertible mode and a regular laptop form for touch-enabled Eee PCs. They will also run Windows 7 as early as mid-2009.
The EeeTop all-in-one machine will arrive this month, and it'll run XP in Easy Mode. What's Easy Mode? It's a skin that runs on top of Windows XP.
For Shen, anything over 10" in screen size becomes a notebook, so Eee PCs will remain at 10" or smaller in screen size.
No Vista for Eee PCs, but Shen foresees Windows 7 on them in the second half of 2009. This would imply that Microsoft might actually meet its aggressive schedule for Windows 7.
Touch-enabled Eee PCs will be available by early 2009. No details but Shen did say that ASUS is exploring different form factors for the touch-enabled Eee. Possible form factors include a convertible tablet and the other a standard notebook

.
Despite the burgeoning market for netbooks, Apple, as we know from their
earnings call
, doesn't think they are "selling much." Four million Eee PCs seems to put the lie to that.