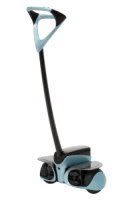 With the rise in gasoline prices, something else has risen:
Segway sales
. Toyota Motor Corporation (TMC) seems to have taken notice, as on Friday they announced a "Personal Transport Assistance Robot," the Winglet.
Now, obviously something like this wasn't developed overnight and thus isn't something considered strictly based on the uptick in Segway sales. But it's still nice, in terms of Toyota's timing, that Segway sales have risen.
The
press release
says the following:
The Winglet — still being refined — is one of TMC's people-assisting Toyota Partner Robots. Designed to contribute to society by helping people enjoy a safe and fully mobile life, the Winglet is a compact next-generation everyday transport tool that offers advanced ease of use and expands the user's range of mobility.

The Winglet consists of a body (with a projected area the size of an A3 sheet of paper) that houses an electric motor, two wheels and internal sensors that constantly monitor the user's position and make adjustments in power to ensure stability. Meanwhile, a unique parallel link mechanism allows the rider to go forward, backward and turn simply by shifting body weight, making the vehicle safe and useful even in tight spaces or crowded environments.

TMC has created three models, the "L", "M" and "S", each having different handling features that allow consumers to select a model appropriate to their needs — from "practical" to "hands-free sporty."
Now, Japan is fairly robot-crazy, and thus the reason for the use of the term "robot" when this is a transport vehicle is fairly obvious: target the robot-friendly audience.
Take a look at the proposed models (click to enlarge):
Tests will be conducted this fall at the Central Japan International Airport (Centrair) near Nagoya, and Laguna Gamagori, a seaside resort complex in Aichi Prefecture. Next year Toyota will conduct tests
at the Tressa Yokohama shopping complex in Yokohama City.