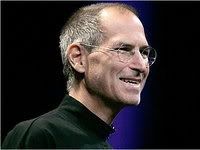 If you happened across a Bloomberg release at 4:27 PM EDT Wednesday, you might have gasped. Apple stock might have crashed. But no, Steve Jobs is not dead.
Bloomberg updated its obituary information on Steve Jobs yesterday, and accidentally sent it out on the wires as well. It quickly retracted the story, thought without giving any details, saying:
"An incomplete story referencing Apple Inc. was inadvertently published by Bloomberg News at 4:27 p.m. New York time today. The item was never meant for publication and has been retracted."
And that quickly lowered the blood pressure of many. It should be noted that obituaries of this sort are frequently kept around for reference, just in case. It's not unusual, except in cases of very young people having their obituaries filed, such as Britney Spears. AP
admitted
they already had an obituary prepared for her during her meltdowns last year.
The obituary does serve as a reminder over the
worries
people have had over Jobs' health, however, since his gaunt appearance at the Apple WWDC earlier this year.
The story was obviously a mistake, as it started:
JOB

(sic)

, STEVE. APPLE FOUNDER, TECH VISIONARY. UPDATED AUGUST 2008

HOLD FOR RELEASE - DO NOT USE - HOLD FOR RELEASE - DO NOT USE

Steve Jobs's birthday: Feb. 24, 1955
BIO UPDATED AS OF 2008, by Connie Guglielmo
Oops, do we now know it was Connie who goofed? There is a long list of people to contact in case of Jobs' death included in the text, with people such as Jobs' ex-girlfriend Heidi Roizen, California Attorney General Jerry Brown, Steve Wozniak (natch), Al Gore, Bill Gates, Larry Ellison, and on and on.
You can read the full obit at
Gawker
. It does at least give insight into how these things are prepared. And, if nothing else, Jobs got to read his obituary, something most people don't get to do.