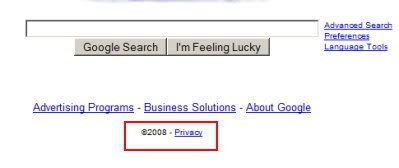 On June 3rd a group of privacy advocates, including California-based Privacy Rights Clearinghouse, the World Privacy Forum, Consumer Action, the Electronic Frontier Foundation, Consumer Federation of California, and ACLU of Northern California - among others - sent a
detailed letter
to Google CEO CEO Eric Schmidt, charging that the lack of a privacy link on Google's home page was not just "alarming," but violated the
California Online Privacy Protection Act of 2003
.
On June 10th, California Assemblymember Joel Anderson (R - La Mesa) added his weight to the call, writing his own letter (
.PDF
). The law in question says:
An operator of a commercial Web site or online service that collects personally identifiable information through the Internet about individual consumers residing in California who use or visit its commercial Web site or online service shall conspicuously post its privacy policy on its Web site
In addition, most commercial sites do this as a matter of course.
It took a month, but just prior to Independence Day (fitting), on Thursday, Google added a privacy link to their home page.
On both their public policy
blog
and their main corporate
blog
, Google announced the change. I must admit, Marissa Mayer's blog post was somewhat cryptic, involving a long-winded discussion over home page word count, but the gist, from the public policy blog, is:
So, today, we're making a homepage change by adding a link to our privacy overview and policies. We added this link both to our homepage and to our results page to make it easier for users to find information about our privacy principles. The new "Privacy" link goes to our privacy center, which was revamped earlier this year to be more straightforward and approachable with videos and a non-legalese "Privacy Overview" to make sure users understand in basic terms what Google does, doesn't, will, and won't do in regard their personal information.
As you can see above, it's not exactly what I would call "conspicuous," but it is there. Of course, to maintain their 28 word count on their home page, Google removed the word "Google," but hey, you're on their site anyway, right?