Earlier this month NVIDIA gave laptop owners with NVIDIA GPUs headaches. The company filed a report with the SEC (
.PDF
) stating that the company was taking a $150 - $200 million charge to cover (emphasis mine):
... anticipated customer warranty, repair, return, replacement and other consequential costs and expenses arising from a

weak die/packaging material set

in certain versions of our previous generation MCP and GPU products used in notebook systems. All newly manufactured products and all products currently shipping in volume have a different and more robust material set.

The previous generation MCP and GPU products that are impacted were included in a number of notebook products that were shipped and sold in significant quantities. Certain notebook configurations of these MCP and GPU products are failing in the field at higher than normal rates. While we have not been able to determine a root cause for these failures, testing suggests a weak material set of die/package combination, system thermal management designs, and customer use patterns are contributing factors.

We have developed and have made available for download a software driver to cause the system fan to begin operation at the powering up of the system and reduce the thermal stress on these chips.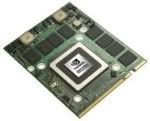 While Dell certainly isn't the only notebook vendor to use the affected GPUs, they are the first to
issue
a series of BIOS updates to address the issues. Of course, much like the driver, this will increase your fan usage, cooling the GPU, but increasing noise and reducing battery life.
As noted in Dell's post, however, if you're seeing any of the following:
Multiple images
Random characters on the screen
Lines on the screen
No video
a BIOS upgrade isn't going to help. Your GPU is fried and you need to talk to Dell Tech Support. My feeling is that, in or out of warranty (and remember, this is just MHO), Dell will stand behind its products and fix them, as they were inherent flaws in the original GPU.
Here are the available BIOS upgrades. While NVIDIA (and everyone's) been rather closed-mouth about which GPUs are affected, the list of notebooks gives clues to that, revealing systems that are mostly using GeForce 8400M and related video chipsets. Nice to see no listing for my M1730, at least.
| | | | |
| --- | --- | --- | --- |
| Dell Product Name | BIOS Revision | Date | Update File Name |
| | A09 | 7/14/08 | 1420_A09.EXE |
| | A12 | 6/22/08 | D630_A12.EXE |
| | A06 | 7/11/08 | D630CA06.EXE |
| | A07 | 7/11/08 | M2300A07.EXE |
| | A10 | 7/10/08 | V1310-A10.EXE |
| | A09 | 7/10/08 | 1400_A09.EXE |
| | A10 | 7/10/08 | V1510A10.EXE |
| | A07 | 7/10/08 | V1710A07.EXE |
| | A12 | 7/9/08 | M1330A12.EXE |
| | A09 | 7/25/08 | 1530_A09.EXE |