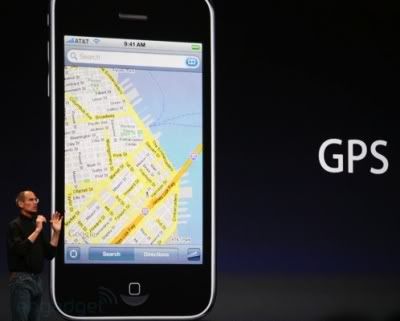 Apple announced record fiscal year Q3 results, and then watched its stock plummet 10% in after hours trading. Why? An outlook below what Wall Street had been expecting.
As expected, Mac sales juiced up Apple's earnings; Apple shipped 2,496,000 Macs in the quarter, up 41% from a year ago. Apple also sold 11,011,000 iPods during the quarter, a 12% growth in unit sales from a year ago. iPhone sales were at 717,000 in the quarter, up from 270,000 last year.
In their
press release
, Apple CEO Steve Jobs said:
"We're proud to report the best June quarter for both revenue and earnings in Apple's history," said Steve Jobs, Apple's CEO. "We set a new record for Mac sales, we think we have a real winner with our new iPhone 3G, and we're busy finishing several more wonderful new products to launch in the coming months."
Peter Oppenheimer, Apple's CFO said:
"We're extremely pleased with the growth of our business and the generation of almost $5.4 billion in cash in the first three quarters of fiscal 2008. Looking ahead to the fourth quarter of fiscal 2008, we expect revenue of about $7.8 billion and earnings per diluted share of about $1.00."
But it was what Oppenheimer said in Apple's
earnings call
that made the big impact. While forecasting Q4 earnings:
We expect gross margin to be about 31.5%, reflecting approximately $23 million related to stock-based compensation expense, down from 34.8% in the June quarter. This sequential decline is expected due to three primary factors; first, the full quarter impact of the back-to-school promotion; second, a future product transition, which I can't discuss today; and third, the one-time true-up of our contract manufacturer deferred margin that we realized in the June quarter.
Start your rumor engines. What exactly is that product transition? Analysts tried follow-up questions, but typical of Apple, they stay close-mouthed. You'll recall that last July Oppenheimer made the
same sort of statement
, and what did we get? We got
new iMacs
in August and a revamped iPod line, including the
iPod Touch
in September.
Something else that may be affecting Apple stock: many noticed the gaunt appearance of Steve Jobs at WWDC last month, and an analyst asked about it today.
Ben Reitzes - Lehman Brothers

Okay, thanks. And then my last thing is just I would like to ask it as respectfully as possible; a New York newspaper today obviously called into question some issues around Steve and obviously his health, and we get a lot of questions about it and I'm really sorry to ask, because it's a very private matter, but would you mind addressing the situation and just making it so we can have your official statement? And I apologize in advance for having to ask the question.

Peter Oppenheimer

Ben, Steve loves Apple. He serves as the CEO at the pleasure of Apple's board and has no plans to leave Apple. Steve's health is a private matter.
Certainly, the official statement is really more of a non-statement, which isn't going to quiet any rumors. While "Real Steve" isn't going to follow "Fake Steve" into
retirement
, at least not yet, it's something that Wall Street has wanted to see for a while: a transition plan for the post-Steve Jobs era. No matter how private Jobs' health is, it is something that will have to be addressed someday.