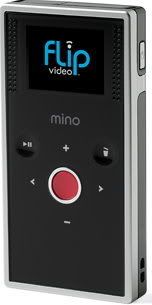 In one year, San Francisco startup Pure Digital's
Flip Video camcorders
have carved out a 15% market share. Additionally, Flip models are currently in the top 5 selling flash memory camcorders on Amazon, and according to the company, sales were up 300% in 2007. On June 4th, Flip launches in both the U.K. and Canada, and as part of the launch, Pure Digital is unveiling a new, 40% smaller model, the Flip Mino.
The Mino has the same cool flip-out USB plug that earns the device its name. Rather than using replaceable AA batteries, there is an internal rechargeable battery. I actually consider this a downgrade, as although it allows the size of the Mino to be reduced, for something like this I would generally use rechargeable NiMH batteries, which I consider to be better than non-swappable rechargeable batteries. Remind you of any other small device that
doesn't have
a swappable battery?
The internal battery holds about four hours of power and charges when the device is plugged into a PC. The Mino also has touch-sensitive buttons that recede into the casing.
Details of the new model:
Amazingly thin, pocket-sized camcorder
40% smaller than Ultra Series. Dimensions : 4" x 2" x 0.6". Weight: 3.3 oz.
of on-board flash memory records up to 60 minutes of video
Sealed, internal rechargeable lithium ion battery that recharges through built-in USB arm
back-panel with touch-sensitive buttons
No Glare display screen (1.5")
TV quality video
Instant playback, pause, fast forward/rewind, and delete features
Available in black and white models
Connects to TV for instant viewing
Built-in high-speed software enables instant video sharing from any PC or Mac:

Save and organize videos on computer

Email videos and video greeting cards

Publish videos instantly on video sharing sites like YouTube, MySpace, and AOL

Capture still photos from video clips

Create custom movies with your own music

Make your own DVDs and have them shipped anywhere in the world
Available nationwide starting June 5th at Amazon.com, BestBuy.com, Circuit City, Costco.com, Sears, Target.com, TheFlip.com, Walmart.com, and other national retailers. Available at additional retailers Fall 2008.
Suggested Retail Pricing: 60 minute model: $179.99
Despite the fact that customers and its retail partners have all asked for more features - and I can see why, because I would love the laundry list already suggested - optical zoom, longer battery life and an SD card slot to add external memory - the Mino offers less, not more.
"It takes a huge amount of value for you to see us add anything to the Flip," Jonathan Kaplan, chief executive of Pure Digital said. "We resist 'feature creep' like no other company in the world today. When our products get more complicated, they get less easy to use and less fun."