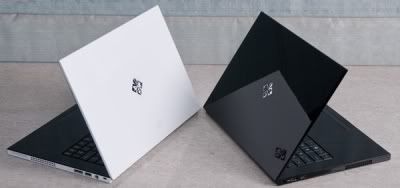 HP hasn't really done all that much with VoodooPC since acquiring it in 2006; it's Blackbird gaming systems have had "VoodooPC DNA," but that's about it. But on Tuesday HP announced a "Voodoo Portfolio," with both a new laptop and a desktop, but it's the laptop that's more interesting, and which deviates from Voodoo's old uber-gaming style.
The Voodoo Envy 133 is clearly aimed squarely at the MacBook Air (MBA). It's also definitely not a gaming laptop, per se. Size and weight-wise (from the
press release
), we're talking about
.7" thick, 3.4 lbs., 13.3" LCD screen, Core2 Duo CPU (SP7500 / SP7700) - all MBA-range. It's starts at a little higher than the entry-level MBA, at $2,099, but it's got some interesting pluses.
Carbon fibre case, fused composite glass covering the display

Voodoo Aura PowerConnect

- Establishes a one-to-one wireless connection between the Envy 133 notebook and an Ethernet connector located on the power supply, allowing users to roam free from the wired connection.

Of course, this makes the brick even more expensive, if you need a spare.



Voodoo Instant-On Solution (IOS)

- This uses DeviceVM, booting the notebook can to a Linux screen within seconds, allowing the user to begin using Firefox, Skype, instant messenger software, or other software while Vista loads (slowly) in the background.

Removable Battery (one of the first complaints about the MBA)
Don't get your hopes up: no internal optical drive.
According to VoodooPC's website, it's coming June 20th.