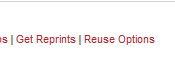 As the blow-up over the Associated Press' DMCA
takedown demands
of The Drudge Retort gains still more steam, AP has said it was planning to publish guidelines for posting of excerpts of their articles in blogs and other sites.
It turns out they already have a policy for excerpting their stories. While it still, in my opinion and that of many others, it doesn't seem to recognize "
fair use
," it does have a "free" method of posting stories from AP.
If you view an
AP story
and see a reuse options link (above), click through and you'll see the full
list
of current AP options for reuse. Let's be clear here: these are not new!
Some sites
have implied this is a new policy; it is not. I've looked at this stuff before and it's been there even before the recent blow-up.
One of them is
"Post on Your Website or Intranet
." Click-through again and you'll see what they currently consider OK for web sites and blogs.
I'm certainly not defending AP here, but there is a free option, as I said.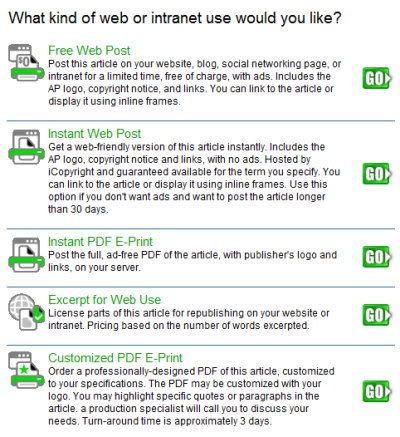 Of course, that option only works for one month. Yep, you can:
Post this article on your website, blog, social networking page, or intranet for a limited time, free of charge, with ads. Includes the AP logo, copyright notice, and links. You can link to the article or display it using inline frames.
If you accept their requirements, you can click through and either get a link or HTML to embed the full story.
Limited time, according to the site, is one month. Most blogs and sites aren't going to want to have to remove a link or story after one month - and this still doesn't satisfy the "fair use" definition most use: a few lines + a link - for free, non-expiring.
Or you can click through the "
Excerpt for Web Use
" link. This requires you to pay by the word:
5-25 - $ 12.50
26-50 - $ 17.50
51-100 - $ 25.00
101-250 - $ 50.00
251 and up - $ 100.00
How generous! They do have slightly better non-profit and educational pricing, however.
So, most blogs / sites still use the "fair use" policy. If AP, troubled as it is, wants additional revenue ... well, this sort of policy is just going to drive people away from linking their stories, and end up being a negative for AP in the long run.
Still waiting for that redefined policy, AP.