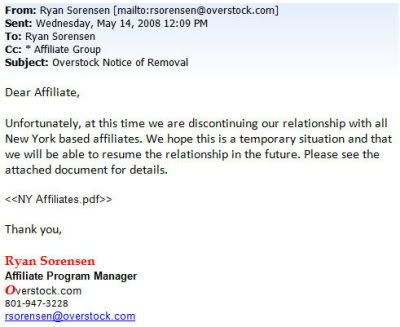 New York recently passed a law which requires etailers to collect sales taxes on sales in the state, if they have affiliates which redirect traffic to their sites (e.g., Amazon.com affiliates). This law is designed to get around the usual requirement that a store have a brick-and-mortar presence in a state before being required to collect sales tax.
However, the tax, which goes into effect on June 1st and has been nicknamed the "Amazon Tax," is already being challenged by Amazon.com, which has
sued
the State of New York. It considers that affiliates no different than advertising in a newspaper (and I would tend to agree).
At any rate, Overstock.com has decided it won't collect the sales tax either. It hasn't joined Amazon.com in the lawsuit however. Instead, it has begun sending letters and emails to affiliates based in New York, tell them that for now it will be ending its relationships with NY affiliates.
So while many retailers based in New York are happy about the new law, you can bet any affiliates are really ticked off about now. Obviously, this isn't the end of the story, as many states are feeling the pinch of lost sales tax revenue. If New York can make this work, you can bet other states will follow.