Dell's apparently shipped a number of Vostro 1310 and 1510 laptops to the U.K. with a screwed-up keyboard layout. The issue was first emerged, at least Internet-wise, on a Flickr page, where a disgruntled
Vostro owner
showed off the funky layout.
They keys are all there. Shift, \|, Z, X. But the left shift key is too large, which pushes all the other keys too far to the right. On any other keyboard the Z is between the A and S (see picture to the right).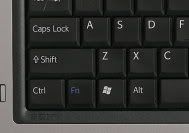 According to Jake Gordon, the original poster, Dell's gotten back to him with a response, as follows:
A limited number of Vostro 1310 and 1510 in Europe have been sent out with the wrong keyboard layout. We are working diligently to offer a solution to impacted customers and correct the error. Once a solution is in place, we will be contacting impacted customers directly to both apologise and instruct them on next steps. We are still investigating this issue and will come back with more detailed information as soon as possible. We have made a mistake here and will be acting as quickly as possible to find a satisfactory solution for our customers.
Well, yeah, a monumental mistake. It ought to be interesting to see what Dell does. Will then send techs out to replace the keyboards? It's going to be interesting.