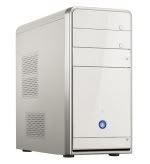 You'll recall the Mac clone maker
Psystar
, which not only says it can sell you a computer, it says it will install Mac OS X 10.5 (Leopard) on it as well. Which not only violates the Mac OS X EULA, it also requires tweaks to do it.
It sounds too good to be true, doesn't it? And many times, if something sounds too good to be true ...
At any rate, it's strange that the company seems to have moved three since their announcement. Perhaps, as they indicate on their
website
, it was just a site error, but they started at 10645 SW 112th St. in Miami, then changed their contact info to 10481 NW 28th St., then to 10471 NW 28th St., and now they're at 10475 NW 28th St. Unfortunately, no Google Street View of that address.
Either they have a really bad webmaster or something's fishy.
Both the
Guardian
and
Gizmodo
have done some poking around, and nothing seems all that positive in terms of investing your hard-earned money with these guys.
The address problem (though admitted to as an error in an interview with Tom's Hardware).

They can't take orders by phone (see their site).

They either have a really bad phone system or no one's there.

The principles are Rodolfo and Roberto Pedraza, who are officers or agents on a whole host of companies, only one of which, besides Psystar, appears in operation (FloridaTek). Oh, and if you click on the "Remote Desktop Technical Support" link on the upper LHS of the page you get an .EXE download - which I wouldn't trust.
So, is this deal just "rotten to the core?" Can't be sure yet, but it's so fishy I'd be worried about mercury poisoning. Stay clear of this company until further notice.