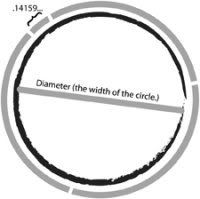 3.141592654. That's Pi (π), at least to the greatest number of digits I can recall. But when I was in school, frequently we would use 3.14. Thus you can see why today is Pi Day. It all adds up.
There's even an official Pi Day
website
. No kidding. For those of you not in the know, Pi is "the relationship between a circle's
diameter
(its width) and its
circumference
(the distance around the circle)."
So, how can you celebrate Pi Day? Well, you can
send
a Happy Pi Day e-card, buy some Pi Day
merchandise
, or visit San Francisco's Exploratorium for their
Pi Day celebration
.
Of you can do what I'm going to do: head for Baker's Square and eat some pi(e).
Oh, and of course a more precise Pi Day will be in 2015. 3/14/15.