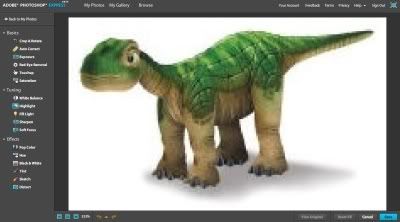 Thursday Adobe launched Photoshop Express, an free, online version of its popular Photoshop picture and graphics-editing software. In doing so, Adobe joins the crowd of vendors offering online versions of productivity software. Typical of such offerings,
Photoshop Express
(PE) arrives in beta form.
Registered users will have 2 GB of storage available as well. Once you sign up, you get a "personal sharing URL," such as http://xxxx.photoshop.com. And before you ask, no, you can't edit local files, only files that are uploaded to your account - or at other sites (more on that below).
Annoyingly, they use Flash for everything, including login, which means Roboform, my password / auto-login program, won't work. Sigh.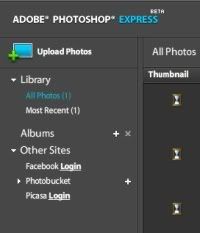 Photoshop Express works integrates Facebook, Photobucket and Picasa; you can login directly from the PE site (right). It will attempt to load thumbnails from the logged-in site, but for Photobucket, it failed, only loading a few of the thumbnails and indicating the rest had been moved or deleted - which they had not. I switching to a different album and back fixed the problem.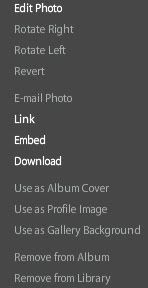 Click on a thumbnail and you can bring up a menu (left) with a ton of options, including (of course) Edit. If you try to grab the link though, it won't give you a direct link, but a link that passes the direct link through the photoshop domain. Annoying.
Get into editing mode and you'll see PE is pretty generous in its options, though it opened this image of a Pleo (188 x 114) in full-screen mode, rather than defaulting to actual size for a picture small enough to fit on-screen (click above image to enlarge). Ah well, that's what the Feedback link is for.
In their
press release
, Doug Mack, vice president of Consumer and Hosted Solutions at Adobe said:
"Photoshop is trusted technology that has changed the visual landscape of our world. Now, Photoshop Express allows anyone who snaps a digital photo to easily achieve the high-impact results for which Adobe is known. Photoshop Express is a convenient, single destination where you can store, edit and share photos whether you're at home, school or on the road."
It doesn't say it, but with other web-based apps proliferating, they are also saying, "if you can't beat 'em, join 'em."
The beta is U.S.-based for now. You can try, as Adobe says in their FAQ, to access it from other countries, but because all the servers are in the U.S., you'll likely have performance issues.