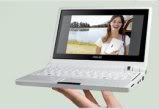 Asus will be discussing the next-gen Eee at CES, starting on Jan. 7, and it looks like there will be some major changes upcoming for the new model. Although of course everything is rumor until the show actually starts, one of them seems pretty solid as according to Asus'
CES page
at their site:
An Official ASUS/ Intel/ Sprint Joint Launch

Join ASUS, Intel and Sprint to learn about the state of WiMAX technology, preview next-generation mobile solutions (including the next generation EeePC) and immerse yourself in tomorrow's wireless protocol.

When: Monday, January 7, 2008: 2:00 - 3:30PM
Where: The Riviera Casino and Hotel, Grand Ball Room
So it looks like
WiMAX
will be part of the new Eee. Meanwhile, the other items require a bit of translation - literally.
According to the Chinese language China Times and an
article
from Commercial Times, it appears the Eee will be finally be getting a version of Windows XP soon (presumably for the old as well as new models), as well as a larger 8.9" screen.
The article also states that the cost of a 7" panel for the original Eee is $40 while the 8.9" panel will be $55 - 60. With only a $15 to $20 difference between the two screens, that's not too bad, and I might even be tempted into one of these, particularly with XP.
More to come when CES starts.