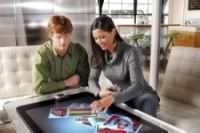 Remember
Minority Report
? A Tom Cruise movie, based on a Philip K. Dick short story, with one of the cool things being able to interface with a computer using gestures only. It was a vertical interface, and it was virtual. What we have here is a table-top (shades of old-style video games in pizza parlors!) interface, no keyboard, no mouse, dubbed 'Surface', and supposedly, opening the doors to 'surface computing.' Surface will be demoed today at the Wall Street Journal's D: All Things Digital conference.
"With Surface, we are creating more intuitive ways for people to interact with technology," said Microsoft CEO Steve Ballmer said. We see this as a multibillion dollar category, and we envision a time when surface computing technologies will be pervasive, from tabletops and counters to the hallway mirror. Surface is the first step in realizing that vision."

In its current form, Surface is incorporated into a 30" display mounted into a table. This allows user involvement to expand beyond just one person. Surface is capable of recognizing input from not just one finger, but multiple up to dozens of inputs simultaneously. Source: DailyTech
It's cool that multiple users can interact with the screen at once. Though of course, at about $10K a pop, the price isn't so cool. But initially the target is places like casinos, hotel lobbies, and restaurants. There is a demo available for viewing
here
.