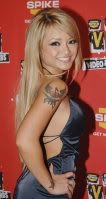 Tila Tequila, AKA Tila Nguyen, has the most friends of any
MySpace
member. In April 2007 she had, according to Wikipedia, 1,771,920 friends. Additionally, at the time of this writing, she has 3,043,688 comments on her page.
Time Magazine
has called her the "Madonna of MySpace."
She's getting a chance to test that friendliness in an MTV dating show called "
A Shot at Love with Tila Tequila
." The twist is that there are 16 men
and
16 women competing for her affections, but neither group knows about the other. Her bisexuality will be hidden from the groups until later in the season. In fact, according to her MySpace page, her show announcement was her "coming out" to her parents as well.
"Tila Tequila made a name for herself by doing things her way, captivating legions of fans online, both men and women," said MTV executive Tony DiSanto. "Now she is taking that attitude and sex appeal to her own TV series where she is looking for a mate ... by again, captivating a group of both men and women."
The show will air starting October 9th at 10PM. There will be 10 one-hour episodes.